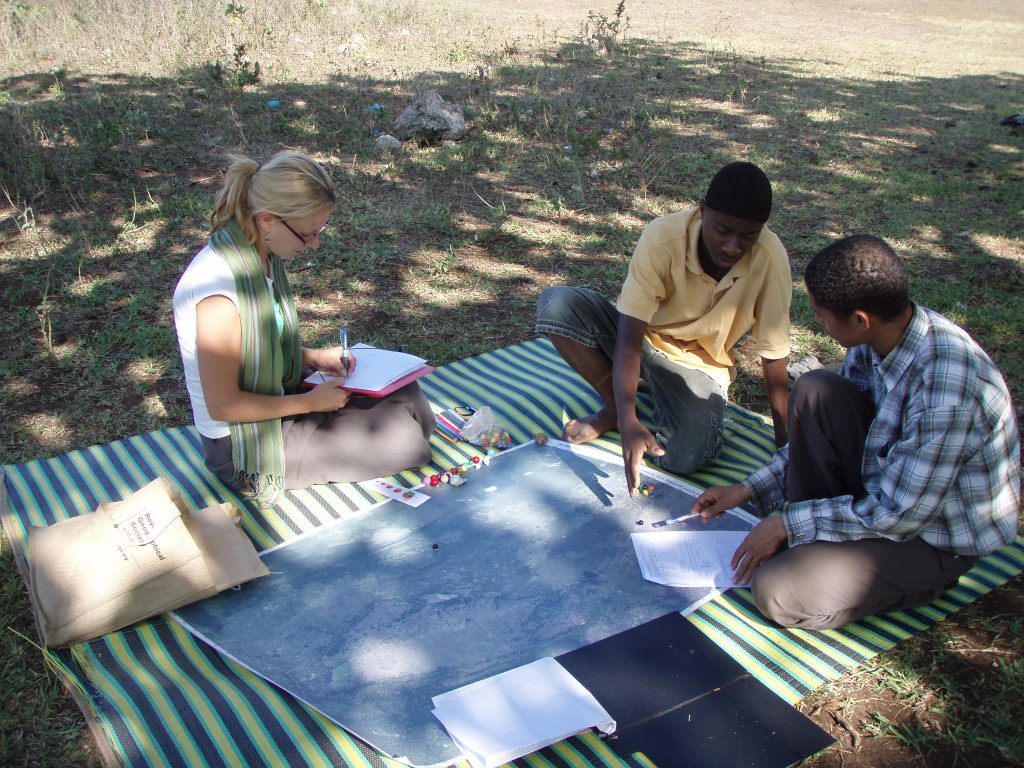 (Image) Participatory mapping of landscape practices and values has been part of our research methods almost since the beginning. Here a villager is mapping his agricultural areas and sites of social gathering as part of landscape services in Unguja Ukuu village, Zanzibar in 2010.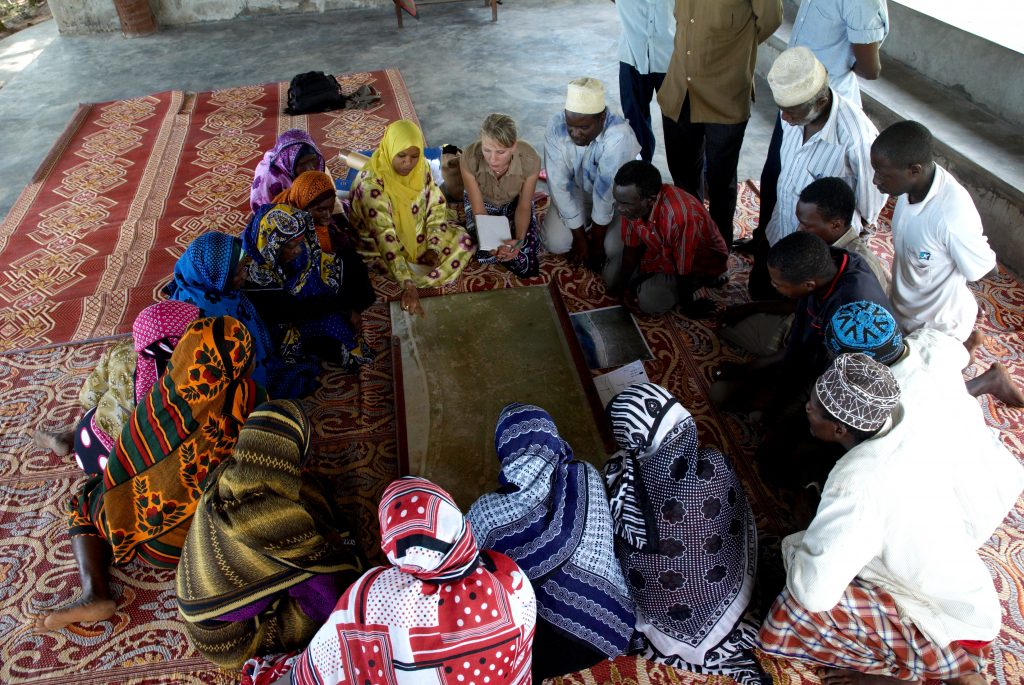 (Image) A group of villagers discuss the results of participatory mapping and their implications to landscape sustainability in Matemwe village, Zanzibar in 2007.
Geospatial solutions, nature-human interactions and innovation development in the Global South have been on the key agenda of the Department of Geography and Geology of the University of Turku for the last decades. We have been working in South America and Amazonia (Peru, Brazil), Eastern and Southern Africa (Tanzania, Namibia) and Asia (India, Nepal) with mapping, spatial analysis and assessment of the complex interactions of natural resources, biodiversity, communities, socio-economic factors, livelihoods and land-cover change.
Our cooperation in Tanzania has been continuous since 2003, when we started a research project "Interaction between forest plantation and community and its impact on biodiversity in Zanzibar, Tanzania" with the University of Dar es Salaam (UDSM) and Government of Zanzibar. In the project, we studied what long term impacts Finnish forestry sector cooperation in the 1980's in Zanzibar had had on the livelihoods of the local communities and what changes had happened in the environment of the villages over the last decades.
In 2016 we joined forces with the Department of Future Technologies, back then Department of Information Technology of the University of Turku. The Department had already had several years of experience in the ICT sector innovation in the Global South. This collaboration broadened our joined team's knowhow and agenda to this fast growing innovative sector in Africa.  
Up to today, we have had over ten different research, education and development cooperation projects in Tanzania and more or less 100 research and educational visits between our countries by researchers, students and government officials. We have organized landscape research, geographical information systems (GIS) and spatial planning related trainings for academics and practitioners both in Turku and in different parts of Tanzania. In addition, we have worked together with our Tanzanian partners in designing more sustainable solutions for natural resource management and planning. Please have a look at the list of projects to get a better understanding of the cooperation.
In addition to the academic cooperation, student-led development projects have been carried out in coopertation with the forestry authority in Zanzibar. The Geographical Society of Turku has had four projects in Zanzibar (KIWA, LIVE, SUFO and on-going KIPPO project). Focus in the projects has been the strengthening of community based forest management and livelihood development in the communities around Kiwengwa-Pongwe forest reserve. The cooperation has given tens of students from geography and other fields valuable work experience and opportunities for cultural exchange between Tanzanian and Finnish counterparts.

We have MoUs with four Tanzanian Universities for cooperation. With UDSM since 2008 and with Ardhi University, State University of Zanzibar and Sokoine University of Agriculture since 2017-18. We also have MoU with the Department of Forestry and Non-Renewable Natural Resources (DFNRNR) of the Government of Zanzibar, and willingness to cooperate on geospatial expertize development and forest management.