One of the most tangible impacts of our long-term institutional cooperation in Tanzania is that geospatial expertise in our partner universities and government institutions, as well as at the University of Turku has become stronger. This has impacted the quality of professional work practices related to the use of geospatial methods and enabled us all to use location-based solutions more fluently in solving practical real-world problems.
Most important examples of practical impacts of our applied research and collaboration
Supporting the training of geographical information systems (GIS) experts and institutionalization of GIS expertise and spatial data management at the Department of Forestry and Non-Renewable Natural Resources of Government of Zanzibar and the Department of Geography at the University of Dar es Salaam (since 2003-).

Establishment of new Master's of Science in GIS -curricula at the University of Dar es Salaam in 2015.

Upgrading a new GIS lab (HEI-GIS lab) of the Department of Geography of UDSM (opened in 2015).

Reviewing and establishing new geospatial and ICT curricula for UDSM, ARU, SUZA and SUA (ongoing cooperation in GEO-ICT project).
Supporting the Government of Zanzibar in the establishment of regional and local land use plans using digital open source GIS solutions and landscape character mapping (2014-15).

Developing geospatial methods, and participatory mapping and planning tools for the official village land use planning (VLUP) process in cooperation with the National Land Use Planning Commission of Tanzania (2017-18).

Developing best practices for coastal and marine spatial planning, especially for the NESAP (North-East Special Area), using geospatial and participatory solutions together with the Department of Urban and Rural Planning of Zanzibar (2016-17).
Creating a baseline map and statistics of forest plantations in the region of the Southern Highlands, Tanzania with FAO and Private Forestry Programme (2017)

Mapping forest cover loss in Zanzibar in conjunction with the Zanzibar Biomass Survey (2012).

Increasing the exposure to use information generated through research at the communities where we have worked and held reflection workshops (since 2003-).
All in all, our long-term cooperation has made more geospatial experts available for public and private sector employment with capacity to solve environmental and societal problems in Tanzania. The location-based solutions which we have developed with practitioners will reach the public at large. When applied in the society, they have a possibility to enhance participation and democratic decision-making through participatory land use planning as well as through for example crowdsourcing-based community initiatives.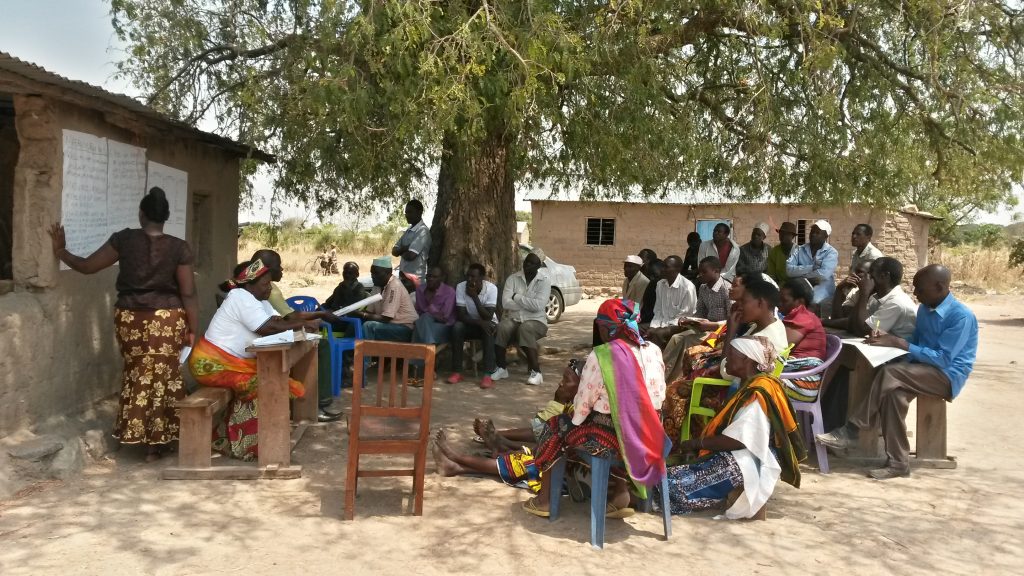 (Image) A group of representatives of various village institutions reviewing the outcomes of a study on the collaboration and challenges in community forest management in their village in Kahama district on mainland Tanzania in 2016. Reflection workshops like these are appreciated by the studied communities as a source of information and reflection. The workshops also provide the researcher local views to diversify the data interpretation and to prioritize the results.